Past Potentates
2022 - Eric Wedge - Wichita State Baseball Head Coach
2021 - Gordon Ramsay - Wichita Police Chief
2020 - COVID
2019 - Mike Kennedy
2018 - Dancin' Don Hall
2017 - Bob Lutz
2016 - Miss Kansas 2016 - Kendall Schoenekase
2015 - Mayor Jeff Longwell
2014 - Anne Keefer
2013 - Steve McIntosh
2012 - Bonnie Bing
2011 - Jeff Herndon - KAKE
2010 - Guy Bower - Entercom Radio
2009 - Tim Norton - Sedgwick County Commissioner
2008 - Don & Shirley Beggs - President & First Lady WSU
2007 - Mayor Carl Brewer
2006 - Steve Fairchild - Old Town Association
2005 - Gene Stephenson - WSU Baseball Coach
Noblesse Oblige of the Potentate to the Wagonmaster's Downtown Chili Cookoff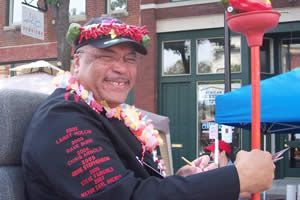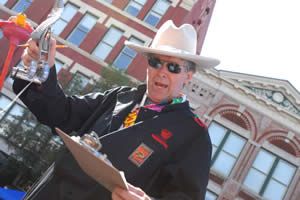 Duties Hereto Ascribed Unto The Potentate of the Wagonmaster's Downtown Chili Cookoff:
The Potentate is the Ambassador of Good Times, and shall shepard said Good Times to the visitors attending the event of the Wagonmaster's Downtown Chili Cookoff.
Adorned in attire befitting a person of great impote, and befitted with an appropriate Scepter-de-Chili, the Potentate shall parade across the Downtown Chili fiefdom in Grande Custom, escorted by enthusiastic disciples of Chili. Eagerly, the Potentate shall visit the brave Contenders of the Wagonmaster's Downtown Chili Cookoff competition and roust them to deliver a fervent example of their 'Spirit'.
Upon witness to the entrant's instance of 'Spirit', and following meticulous evaluation, the Potentate shall ascertain which team epitomizes the finest example of this 'Spirit'. Thusly, the Spirit Award is bestowed upon said team by the Potentate.
Following the tasting of Chili of Arbiters of Good Taste, and their final discriminating decisions, with Grand Purpose, the Potentate shall extend awards of adequate observance to the victors, and pause to pose with them for a moment of historical preservation.
Whilst engaged in the circumstance, the Potentate shall be quaffed with perpetual beverage and nourishment exceeding that of average quality.
Ex-libris 2008, Don Grant, Chili Dipper III